Robert Lewandowski again wins Bundesliga golden boot
For the fifth consecutive season, Robert Lewandowski finishes as the Bundesliga's top goalscorer. The Bayern Munich striker recorded 35 goals in 34 appearances during the 2021/22 campaign to lead the way in the league in terms of goals scored. Lewandowski finished 11 goals ahead of  Patrik Schick, who scored 24 goals in 27 appearances for Bayer Leverkusen.
Another incredible season
The 2021/22 Bundesliga season was Lewandowski's second-best goal tally in his career in the German top flight. With his goal against Wolfsburg on Matchday 34, the striker moved past the 34 goals scored during the 2019/20 season, which is now his third-best Bundesliga campaign in terms of goals scored. His career-best season was during the 2020/21 campaign when he recorded 41 goals to set a new single-season record in the Bundesliga.
This season was Lewandowski's fifth Bundesliga campaign where he has scored 30 goals or more. The last three seasons have seen the Polish striker score 34 goals or more and over the course of the last three seasons, he has registered an incredible 110 goals in 94 appearances.
A closer look
The majority of Lewandowski's goals were non-penalty kick goals as the striker registered just five goals this season from penalty kicks. The remaining goals were non-penalty kick goals as he finished with the best non-penalty goal tally in the league.
Consistency was a key part of Lewandowski's 35-goal season as he never went more than two consecutive matches without scoring a goal for Bayern in the league. In total, Robert Lewandowski scored in 25 of his 34 Bundesliga appearances and recorded nine multi-goal performances which included two hat-tricks.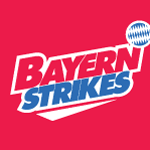 Want your voice heard? Join the Bayern Strikes team!
Serge Gnabry finishes in the top ten
Gnabry joins Robert Lewandowski in the top ten goal scorers of the 2021/22 Bundesliga season. The Bayern winger recorded 14 goals in 34 appearances to finish in seventh place. The 2021/22 campaign was Gnabry's best season in terms of goals scored in a single Bundesliga season. His previous career-best in the league was 12 goals, which were recorded during the 2019/20 season.
A strong finish to the Bundesliga season was a key to Gnabry setting a new career-best. He scored four goals in his last seven league appearances. In the latter stage of the campaign, he was one of the best forwards for Bayern and contributed to the club securing another Bundesliga title.
Thomas Muller leads the league in assists
It was another fantastic season for Muller in terms of goal involvement. The Bayern veteran recorded 18 assists to finish with the most assists in the Bundesliga. He was joined in the top ten by Joshua Kimmich who recorded 11 assists to finish tied for fifth place.