Top players from 2-2 draw against Wolfsburg
On Matchday 34, Bundesliga champions Bayern Munich were hosted by Wolfsburg in the final game of the season. In a game that started hot, Bayern will return home disappointed since they couldn't close out the season with a win. Any advantage Bayern found, Wolfsburg immediately found an answer for. In this incredible end-to-end game, here are Bayern's top performers from the 2-2 draw with Wolfsburg.
Josip Stanisic
In his first start in some time, Josip Stanisic left everything her had on the field. Even though he was playing outside of his preferred right-back position, Stanisic proved his worth. Not only did he do an outstanding job at protecting the back from counterattacks, but he also opened the scoring with a beautiful header coming from a corner.
The timing of the jump was perfect to float the ball into the back of the net. Where he impressed most was his ability to adapt to playing in a three-back as a central defender. This display of versatility will be a highlight for Josip Stanisic's season.
Joshua Kimmich
If you had to pick the most consistent player on the field today, Joshua Kimmich is the first name on that list. Both in offense and defense, Kimmich was a true powerhouse in the midfield– as he has been all season long. In addition, this was one of the best games Kimmich has had for his delivery of corners, not a single one misplaced.
Kimmich was also able to grab himself an assist from his first corner of the game after finding the head of Stansic. Looking at his season as a whole, it is comfortable to say that Joshua Kimmich has been Bayern's most consistent player all season long.
Robert Lewandowski
In what could be his last game for Bayern, Robert Lewandowski ended the season with a bang. After a quiet start to the game, Lewandowski finally grabbed his 35th goal of this Bundesliga campaign– his second-highest goal tally of his career. Throughout the second half of the game, Lewandowski was applying constant pressure on the Wolfsburg defense, even though he could not score the winner.
If this does end up being Lewandowski's last game as a Bayern player, fans will be very happy with this conclusive performance. With the goal and the constant pressure, it is hard to name anybody else as Bayern's Man of the Match than Robert Lewandowski.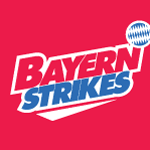 Want your voice heard? Join the Bayern Strikes team!
Bayern Munich has a lot of decision-making to do in terms of both transfers and tactical strategy. To round out the season with three games without a win is never a good look. Now, the German giants can take the next three months to regroup to start off next season with a bang.